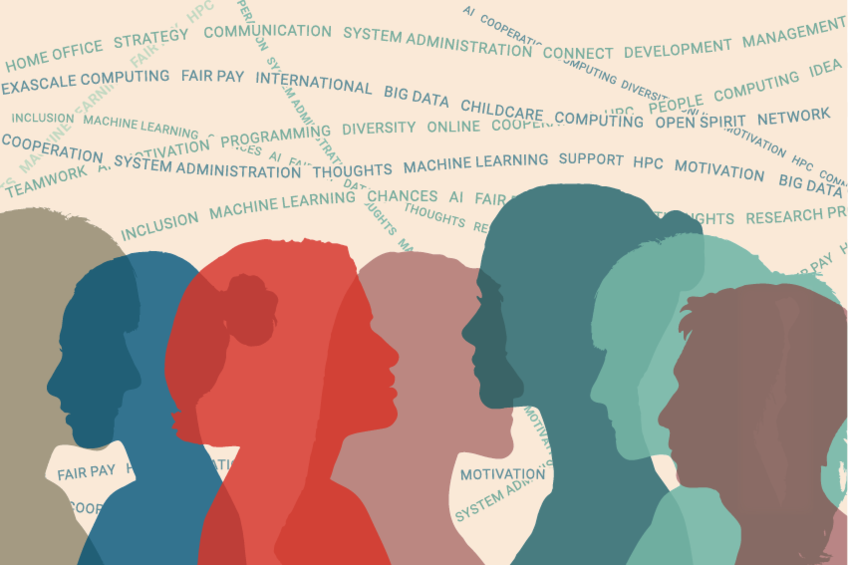 Welcome Everyone
Equal opportunities at MPCDF
Have you read the "cables" above our heads? At MPCDF, we are working on topics such as Big Data, System Administration, Machine Learning, and a whole lot more. In between these topics that define our work at MPCDF, we deal with more topics that naturally come along, such as Open Spirit, Childcare, Fair Pay, Motivation, Remote Work...

It is our mission to promote equal opportunities and the balancing of work and family life for people of all genders who work or intend to work at MPCDF. The ideals of mutual respect, open-mindedness and consideration are important to us – because we have a diverse workforce from different countries and cultures at MPCDF. We are eager to create this harmony of equality and a positive enviroment in our daily work life.
The focus is on
Winning more female professionals for MPCDF
Equal opportunities in recruitment procedures and personnel development are monitored by the Gender Equality Officer.
Reconciliation of work and family life
Our goal is to improve job satisfaction through family-friendly working conditions for women, men, and everybody.
Advise and support employees
We strive to accomodate any special needs. We want to be accessible and inclusive, e. g. for hearing, seeing or mobility issues. Our doors are open to discuss new ideas to create an attractive work environment and to give support for personal issues.
Further initiatives, offers and support
Parent-child-office/quiet room for childcare, breast-feeding and health recovery
Gender neutral restroom available
Special offer by the Max Planck Society is the family service of PME Family Office
Talks, trainings and shared events with the neighbour institutes of the Garching Science Campus (further info for MPCDF employees on the Gender Equality Intranet Page)